Pocket Pedigrees are convenient sized booklets containing pedigrees written by our professional cataloguing services staff. These pedigree booklets are ideal for featuring horses in your sale consignment or other horses you'd like to promote or advertise.


This unique and handy promotional tool is:
Ideal to promote and advertise sales consignments, stallions, and rosters of broodmares, yearlings or horses-in-training.


A unique and cost effective alternative to more traditional forms of advertising and promotion.


Completely customizable and can be produced in a variety of sizes and details, with photos and artwork.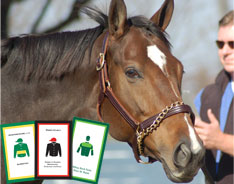 For more information about Pocket Pedigrees and also making them available on the Internet, please visit our Contact Us page.