The online Farm Program is a convenient and useful management tool to help record and manage information for more efficient day-to-day operations on the farm. Its online accessibility makes it easy to use the program at anytime, anywhere.

Go to equineline.com

Some of the basic functions of the
Farm Program include:
Maintain health, breeding and foaling records
Calculate billing and accounts receivables
Generate detailed invoices
Submit foaling and other information directly to The Jockey Club Registration Services
Immediate online verification of horse names
Generate automatic daily messages to owners
And more

We also offer our desktop application for farms:
Horse Farm Management System.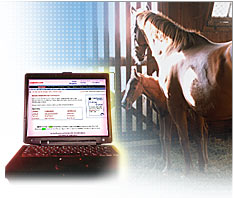 Click Here to visit equineline.com

---


Free Trial Farm Program